Nowadays, aging has a significant impact on society, and also affects our centre. A large number of our current clients are over 55 years old, and the number of elderly clients grows every year. Aware of their different needs, we have developed a project called "I also participate".
The main goal is that people with intellectual disabilities can age in an active and dignified way, which allows them to lead a full life, and thus delaying their admission to a residence as much as possible. This approach requires a different space than we currently have. Our current facilities are scattered over different locations in La Bisbal, which is not efficient, neither in terms of time or expenses.
It is evident to us that we urgently need a single location where we can offer all our services and programs, and, at the same time, offer quality care to people with mental disabilities during their aging process, seeking a dignified life. A single place where we could be of better service and operate more efficiently for all of those involved. Recently we have located a plot of land in our town that meets the requirements of our project.
In fact, conversations with the city council have already started, as to negotiate the donation of this particular plot. Furthermore an architect has been contacted to make an architectural site plan for our project that will include, among others, a day care centre, a residential space and a number of bungalows for family visits. It is located in a pleasant green area where there would also be enough space to house farm animals, have an organic kitchen garden and a small organic restaurant, which match the aims that we set out for El Trampolí. It would be a perfect place to enjoy an active life and maintain personal independence, which eventually could generate its own income for both the centre and its users.
Given the fact that our own revenues are unfortunately not enough to finance this project, we are counting on generous donations and grants from companies and individuals. In order to develop this wonderful place, we depend on your support and contribution.
EL TRAMPOLÍ: LIVING SPACE FOR A COMMUNITY
The new healthcare centre of El Trampolí is going to be built in the outskirts where urban and rural areas meet: a place with ideal parameters to learn how to take care of ourselves while being connected to both the natural environment and the needs of its community.
The aim of this project is to create a place for the development of shared daily life and the inclusion of people with functional diversity in an intergenerational social model. In this communal living space there will be ample room for different needs and activities such as occupational therapy, a specialised day-care centre, a fit-to-purpose work centre, welcoming spaces comparable to a home residence, an assisted living residence including special accommodation for people with behavioural disorders, and respite care accommodation for temporary needs.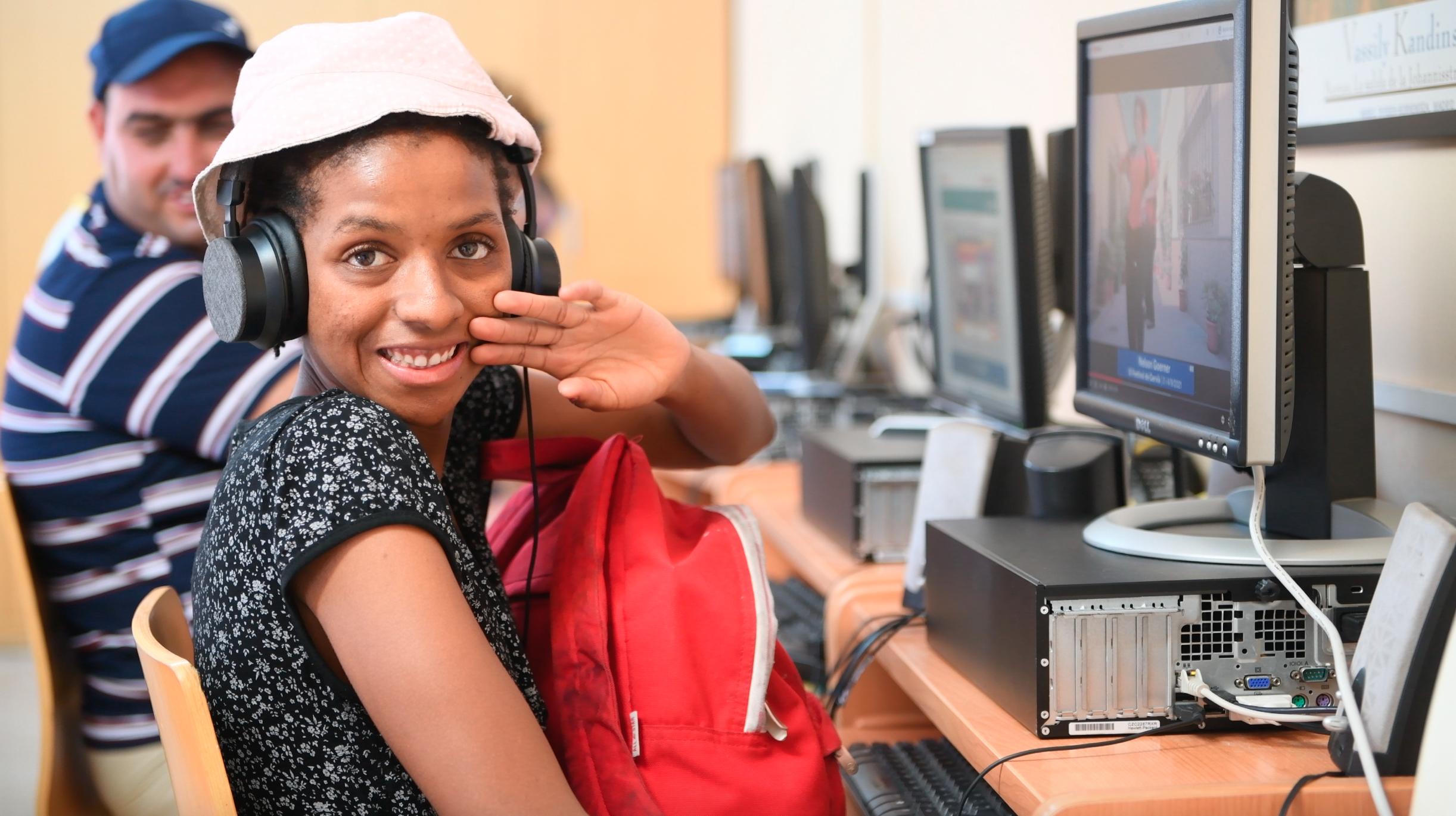 The ecology of care seen from the care receivers' point of view can be translated into sustainability principles that include the natural environment, people and community providing services and activities that add affective values to society.
Daily activities are based on sharing time with the care receivers and developing creativity in performing arts, catering, local product trade, gardening, and animal care.
Ergo, offering local exchange and trade activities that contribute to society, such as Mediterranean gastronomy and permaculture gardening and an animal shelter for leisure and therapy activities.
The ethics of care and its care receivers is defined by the value of affections in daily life and in active co-responsibility, promoting respect for each other and for the natural environment.
The act of caring contributes to the ecology with a vital process of interdependence between giving and receiving care, an ecophilosophy that integrates the individual into community life and respect for nature, exchanging a positive emotional bond with its environment.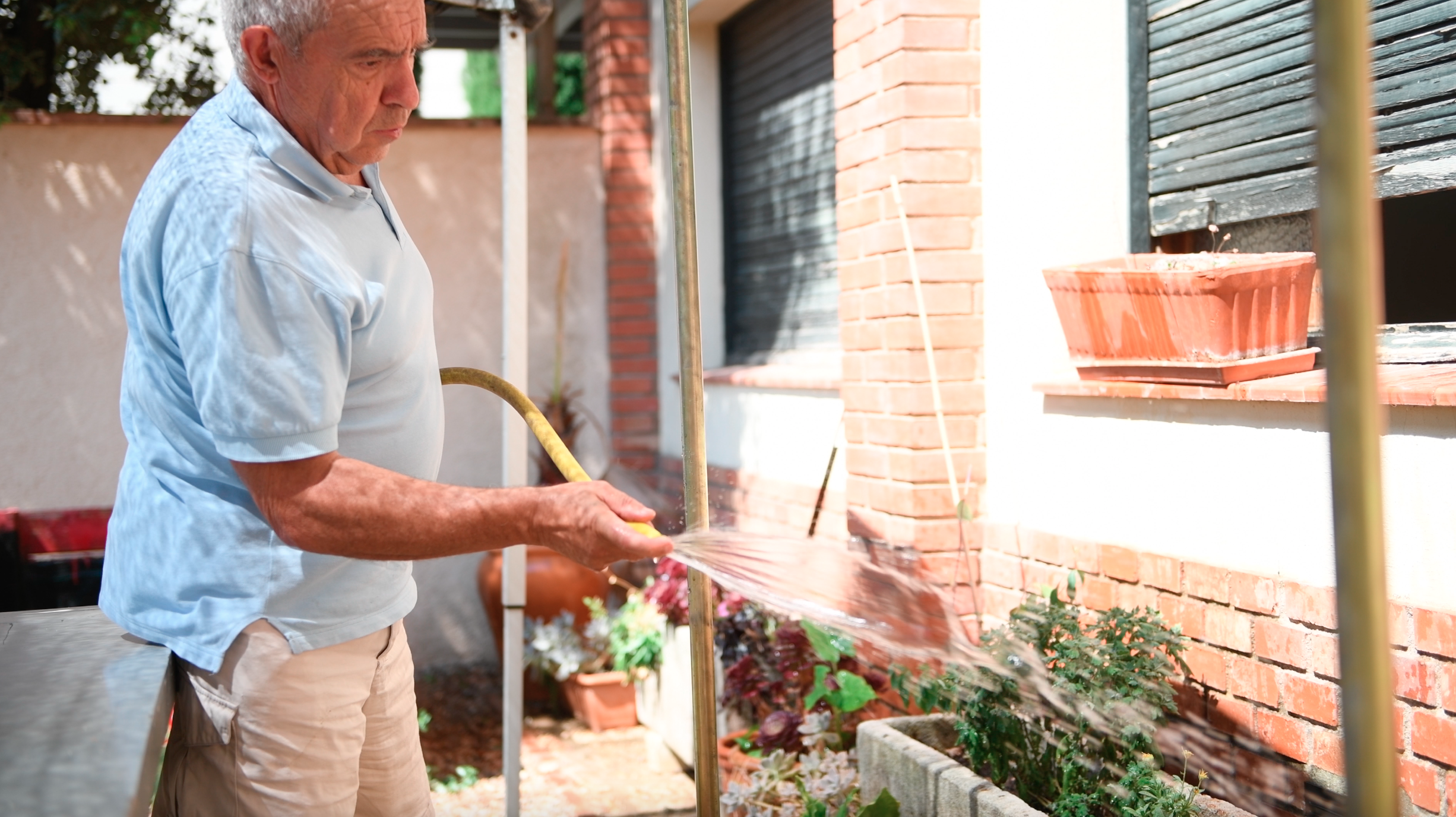 THE ARCHITECTURAL PROJECT
Biohabitat Arquitectura and Jordi Caminero conduct a highly experienced team in sustainable design and bio-construction that brings technical architecture, engineering and landscaping together. With the necessary technical specifications, this project aspires to meet the highest quality standards in environmental sustainability, health and energy efficiency.
The functional program consists of a residential area with a home residence, assisted living and an area for people with behavioural disorders. The residences are grouped into coexistence units of 6 care receivers in sub-groups of 3 that function as shared dwellings, allowing to establish family life. A differentiated building will house respite care accommodation, intended for temporary residential service for care receivers, friends and family (respite care)
The Occupational Therapy Service(STO) and the Specialized Care Centre (CAE) are designed for daytime living, catering, guided activities and therapy, among which the space for theatre rehearsals stands out.
The communal services are distributed in differentiated areas: a kitchen area that is connected to the dining rooms, an administrative area and a support facilities area that facilitates space for physiotherapy, a hairdresser and accommodation for so-called end-of-life care and saying goodbye.
The activities open to the public aimed at a circular economy are organized as a fit-to-purpose work centre for the social integration of the residents: an orchard and permaculture area, a restaurant-shop and a horse sanctuary-refuge for leisure and therapy.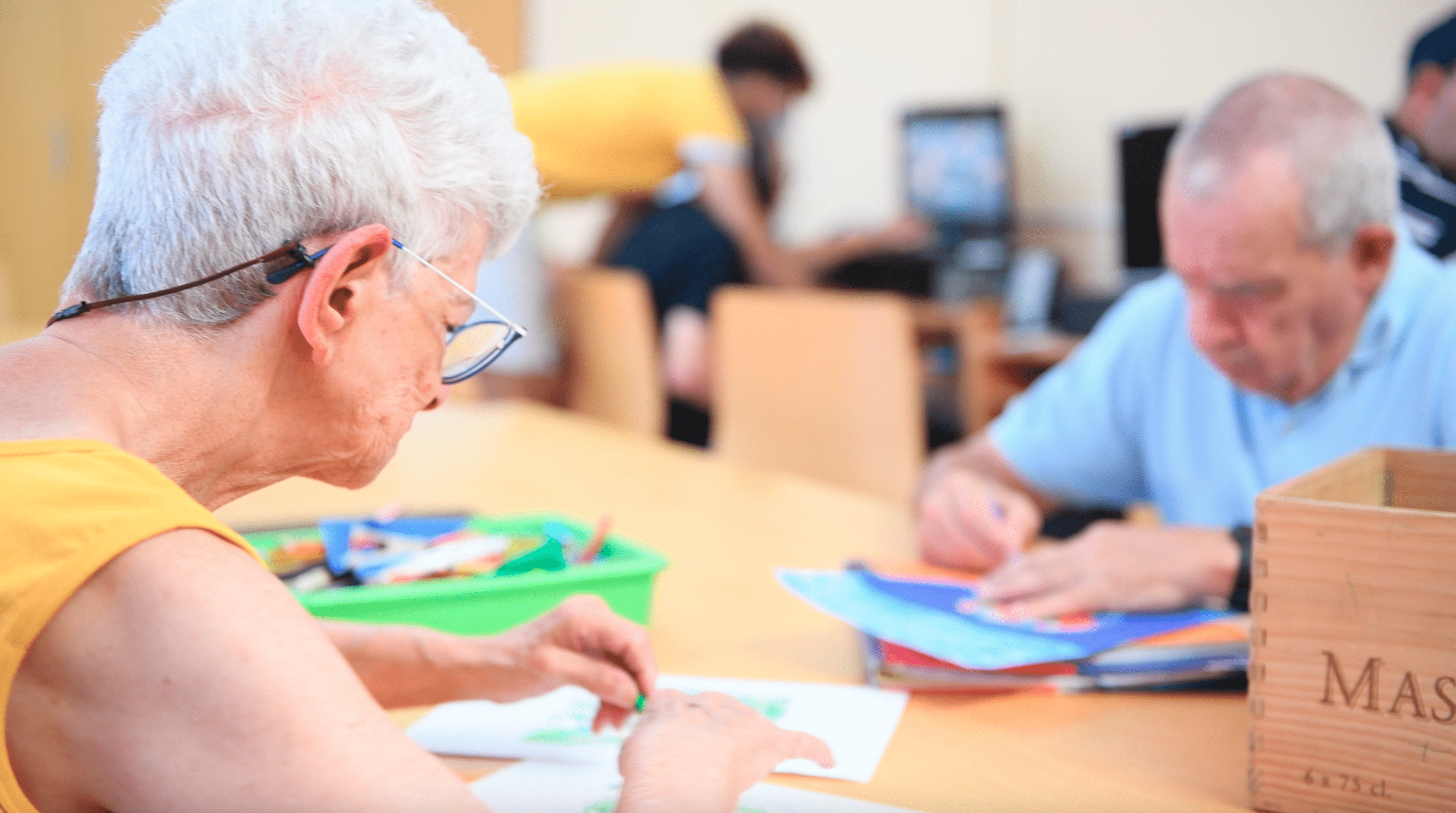 HARMONIC AND UNIVERSAL DESIGN
The project design is a synthesis between functionality and ecology, a functional and emotional design: an organic architecture that seeks the balance between aesthetic emotion and constructive rationality.
Taking care of the sensory and emotional balance in harmony with the natural environment, body and cognitive development through the regulation of natural light and acoustics: the use of harmonic geometric proportions and chromatic scales adapted to different sensitivities.
Promoting health and inclusion, the design improves active mobility, facilitating the adaptability and functional accessibility to sensorial and cognitive diversity. Enhancing a care receiver's experience with a high degree of usability.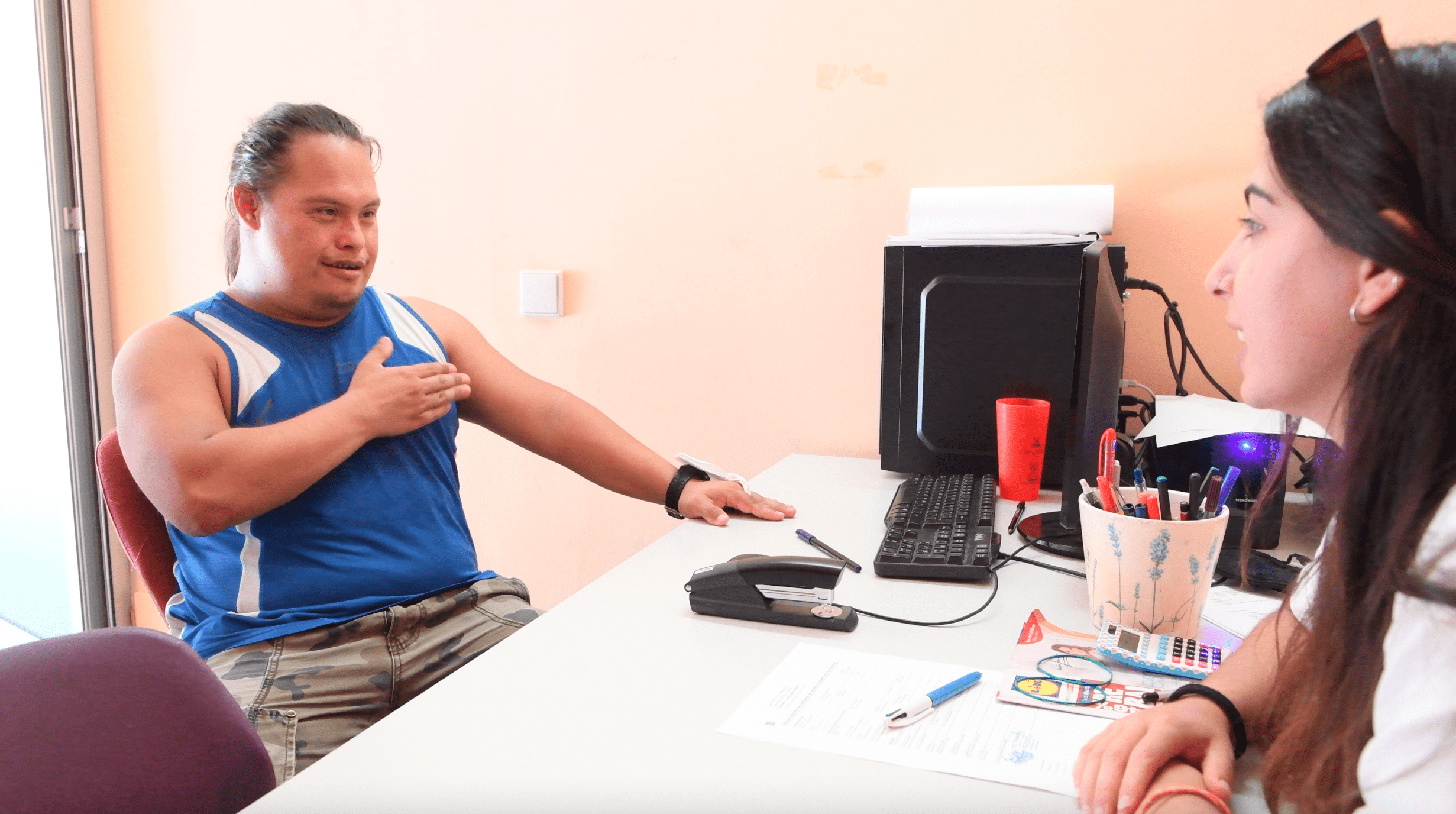 CONSTRUCTION AND BIOCLIMATIC SYSTEMS
The project combines contemporary design with traditional "low tech" elements and techniques. Bio-construction methods and natural materials will be used for the construction: compact earth in rammed earth walls and CEB (compressed earth blocks), earth mortar and lime for surface finishes, wood for structures, furniture and carpentry with ecological protection treatments, and last but not least green roofs as well as cork, cellulose and straw for thermal insulation.
Hence a low-carbon construction, home automation control and recycling of rain and grey water. The energy efficiency is completed with the contribution of renewable energies through geothermal installations as well as thermal and photovoltaic panels to obtain a building with positive energy consumption.
LANDSCAPE, REGENERATION AND SOCIAL INCLUSION
The landscape is designed to integrate architecture in a dialogue between nature and the urban area. The project is proposed as an impulse for social and environmental regeneration. Presenting a sustainability that includes ecology, individual well-being and social inclusion, improving the offer of community proximity services such as fair trade, permaculture and the promotion of leisure and cultural activities.